Modern Black Kitchen Cabinets Charlotte, NC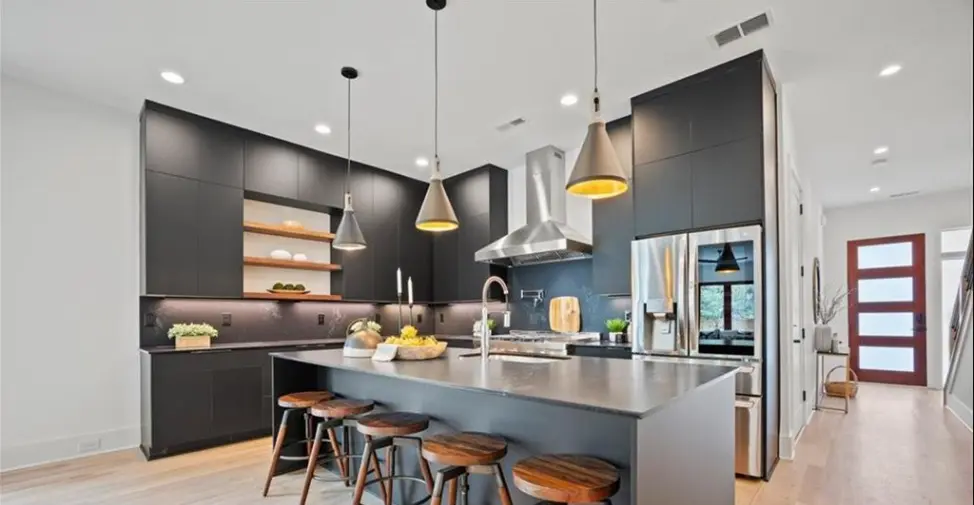 Company: Downtown Cabinets
Photographer: Andrew Ketchum of AK Media
Category: Kitchen

Location: Charlotte, North Carolina
Cabinet Door: Alvic Zenit Slab
Cabinet Color(s): Black
There's no denying that a beautifully designed kitchen can be the heart of any home. And if you're looking for a sophisticated yet understated look, you can't go wrong with a Matte Black Kitchen. This style is gaining popularity for a reason, and it's easy to see why. A great example of a luxurious matte kitchen is these Modern Black Kitchen Cabinets Charlotte, North Carolina by Downtown Cabinets.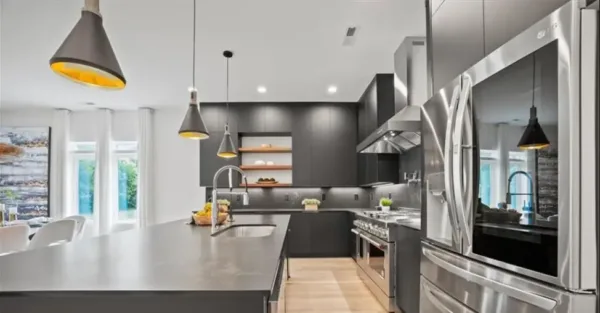 A Luxurious Matte Black
Matte black is a color that truly stands out among the rest. Its versatility and ability to complement both modern and upscale designs make it a top choice among today's discerning homeowners. The Alvic Zenit Black Matte finish used in our flat panel cabinetry adds a touch of elegance to any room and creates a dynamic focal point that is sure to impress. With its contrasting effect against its surroundings, this finish has the ability to transform any space into a work of art. This designer has skillfully incorporated this finish into a stunning home design, creating a space that is both minimalistic and breathtakingly beautiful.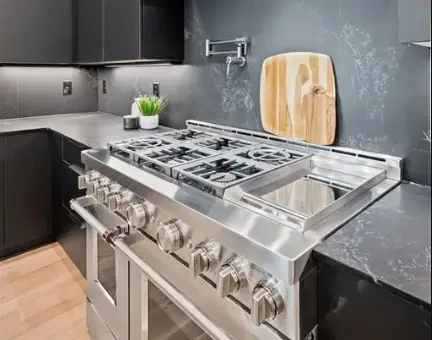 Enhance the Bold Look
The designer was clearly going for a dramatic and bold look with the matte black design of this kitchen. But to really make it pop, they chose to accent it with Vanilla Noir Quartz Countertops by Caesarstone. The combination of the rich, ebony base with the expanding creamy vanilla veins creates a truly luxurious feel that is stunning to look at. And to complete the look, the same countertop continues up the wall as a backsplash, tying the whole design together seamlessly.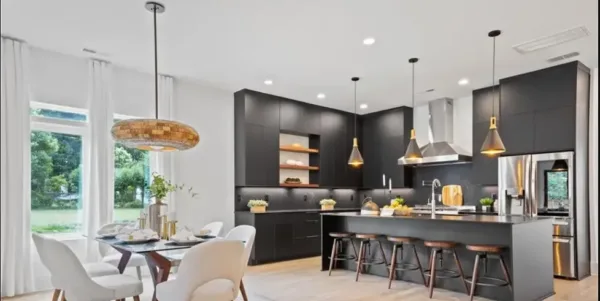 The Perfect Kitchen Work Triangle
When designing a kitchen, it's important to keep in mind the three most essential elements of any culinary space: the stove, the refrigerator, and the sink. And what makes this matte black kitchen truly stand out is its perfect incorporation of the "Kitchen Work Triangle". For example, with the careful placement of these key elements, a triangular space is formed that maximizes efficiency and allows for easy movement throughout the kitchen. Not only is this layout functional and practical, it's also sleek and stylish, with a bold matte black finish that adds a modern touch to the space. Whether you're an aspiring chef or simply someone who enjoys spending time in the kitchen, this design is sure to impress.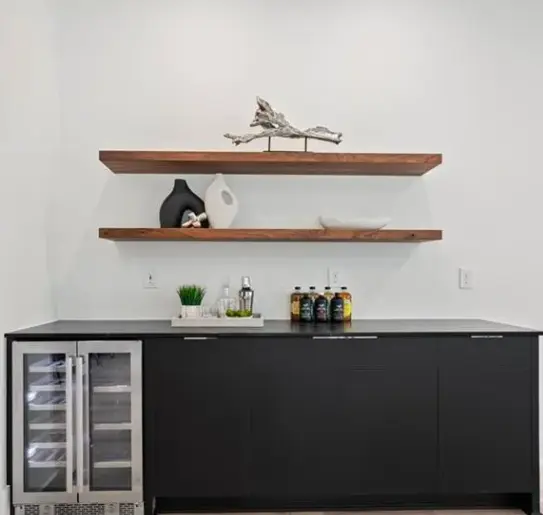 These Modern Black Kitchen Cabinets Charlotte, North Carolina are complete with a stunning dry bar featuring a convenient built-in wine fridge.
Overall, transforming your kitchen has never been easier with Prodigy Cabinetry's extensive range of frameless cabinetry doors. With close to 100 unique styles to choose from, you are sure to find the perfect fit for your design preferences. Whether you are searching for a contemporary matte or gloss finish, or a more traditional painted door, Prodigy Cabinetry has got you covered. Additionally, their customizable options allow you to personalize your cabinetry to best suit your unique style and needs.