Wood Stain Cabinets
Aside from white cabinets, Wood Stain Cabinets are a timeless selection that will never go out of style thanks to their organic appeal and extreme versatility. Let's dive deeper into the lasting appeal of cabinets with natural finishes…
Minimalism
Although they can differ, the most popular natural finish cabinet selections tend to mimic lighter woods such as pine or oak. There are common in minimalist style designs. The wood graining of the light shades gives just enough texture without overpowering.
Extreme Versatility
The great thing about using a natural finish is its extreme versatility. Homeowners can pair these cabinets with various surrounding finishes and complementary elements to create a space that is truly unique. For example, in a kitchen, one can add an abstract backsplash such as marble, and bring other colors into the mix, including blues, grays, tans, and whites. When it comes to countertops, this finish benefits from other surrounding natural elements like granite, concrete, and yet again, marble.
In living room spaces, this finish can benefit from pops of other neutral colors, like whites and tans, while having a darker wood tone in the flooring.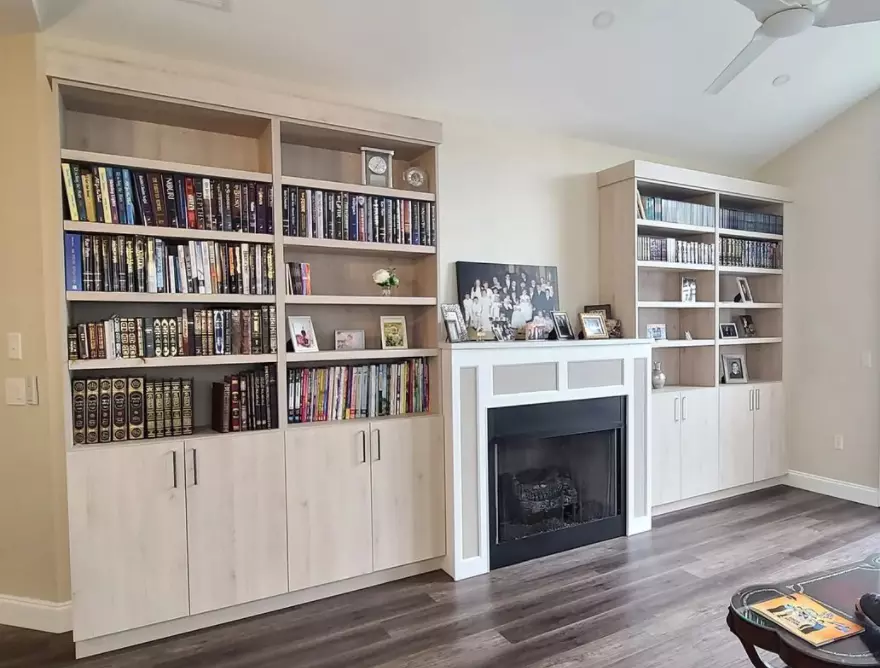 Design by Crown Kitchens
Crown Kitchens created a holistic feel in this home by incorporating the same cabinet style and finishes in the adjacent kitchen and living room, resulting in a seamless transition from one room to the next.
Benefits of Wood Stain Cabinets
When using a wood textured panel, there are even more benefits than meets the eye. Our Alvic Syncron line is a textured panel with an attractive range where the design and finish complement each other to create natural-looking surfaces. It is composed of a wood particle baseboard coated with decorative paper on both sides. This allows the door to be eco-friendly, durable, stain-resistant, and even antibacterial. Learn more about this door style and more by visiting the Products page on our website.
Get the Look
Complete the online contact form on our website if you are interested in natural finish cabinets for your home. Follow @ProdigyCabinetry for more design inspiration!