Four Painted Door Styles
We offer four styles of painted doors to choose from, each with their own distinctive characteristics.
• The Cosmopolitan is best described as a refined skinny shaker style. The thin stiles lend elegance and refinement to the panel and would look phenomenal with today's modern hardware.
• The Slab is a standard door style, for a clean smooth surface.
• Shaker style, an American Classic
• Beveled Shaker, the bevel adds visual interest to the classic shaker
Eight Painted Cabinet Colors
Keeping on trend with the 2023 color palettes, Prodigy is adding a painted line to our frameless cabinetry. We selected eight colors that reflect the current trends in kitchen cabinetry, including three distinct shades of grey and the on-trend dark Navy Blue known as Regent Blue. The Marina color is a robin's egg blue found in luxury design and often attributed to the New York-based jeweler, Tiffany & Co. The Artic White is a must-have choice, and we recommend getting a sample door to see the exact shade in person. I am excited to see how our clients mix and match the new colors in their designs, something like a Metropolitan Grey island, paired with Cadet Grey wall cabinets. All painted Cabinetry orders ship in 8 weeks.

Painted Mouldings, Panels, and Shelving
In addition, we are offering a full line of moldings and other accessories. For the full list of program SKUs, the 2020 catalog, and other documents, click the link here.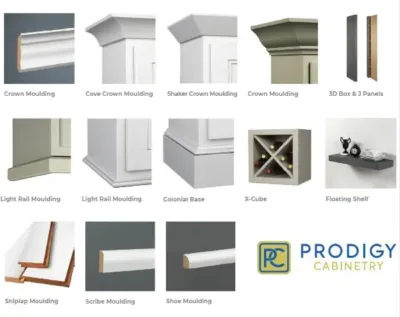 Reserve Your Painted Sample Kit Today
We have a sample kit that includes all four door styles, eight color blocks, mouldings, and brochures. The sample kit is $200. We will refund the cost with your first painted door order.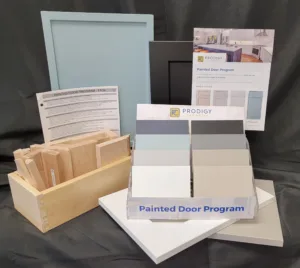 Reserve your sample kit here.
As always, Don and Aileen are available to answer questions at
(864) 558-9538