Shqipe Loshi from Hope Kitchen Cabinets & Stone Supply LLC has an eye for spatial design and a knack for selecting just the right elements for a stunning modern white kitchen design in New York. This open-concept space embraces modern elements while also retaining warmth by using dark oak wood floors and a combination of Prodigy cabinetry and Alvic Supermatt Blanco and Antracita finishes.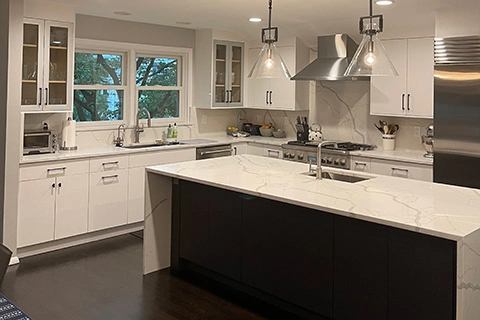 Additionally, Shqipe draped the large island with a Quartz HK Britney White waterfall countertop. Quartz is a lower maintenance alternative to traditional marble and lends a nod to luxury.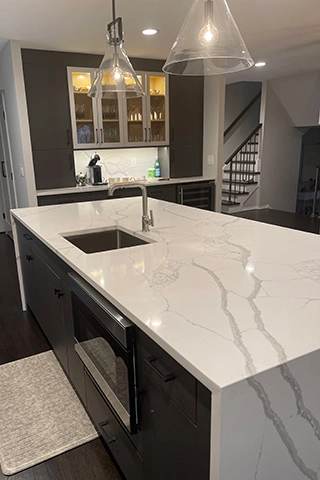 Balancing Cabinetry and Appliances
A dilemma designers often encounter is where to put all the appliances which retain cabinetry storage.  The space of this island is utilized with extreme planning. Shqipe out a microwave on the island, with plenty of drawers and storage.  Also, a handy prep sink is perfectly there for a Sous Chef preparing meals for dinner parties, and the large Sub-Zero Refrigerator is nearby for easy access. The opposing side of the island serves as a seating area for guests with a cleverly placed outlet for charging phones and laptops. Notice the wine and coffee station on the opposing wall. The glass display storage above is behind cabinetry for concealed storage.
A Cohesive Design
Another notable theme of this Modern white kitchen design in New York is the repetition of rectangular shapes. For example, notice the island, windows, cabinet doors, and even the lighting pendants all have a rectangular shape.  By repeating shapes, the design visually interconnects regardless of color or texture.
About Hope Kitchens
Hope Kitchens takes pride in the quality of their products, on-time delivery, and exceptional customer service. Hope Kitchen specializes in all-wood construction cabinetry and top-quality granite, quartz, and marble countertops, with all fabrication performed by their highly skilled craftsmen. They offer installation, delivery, pick-up, and removal of cabinets, countertops, and backsplash via their showrooms in Stamford and Bridgeport, CT, New Rochelle, NY, and surrounding areas.