Farmhouse Kitchen Design – The Ultimate Guide
The farmhouse kitchen is a classic style that combines rustic charm with modern convenience. It has simple lines, natural materials, and a sense of warmth and coziness. But what exactly makes a farmhouse kitchen design?
Add Character with Wood Cabinets
If you want to add character to your kitchen, consider using wood-textured cabinets instead of painted ones. Wood textured cabinets come in a variety of styles and colors, so you'll find one that will complement your home's décor. In this farmhouse kitchen by Stephanie Favale Designs and Total Kitchen Outfitters, the farmhouse style is brought out in the perimeter cabinets by using the Alvic Syncron Ice Cream 01 finish.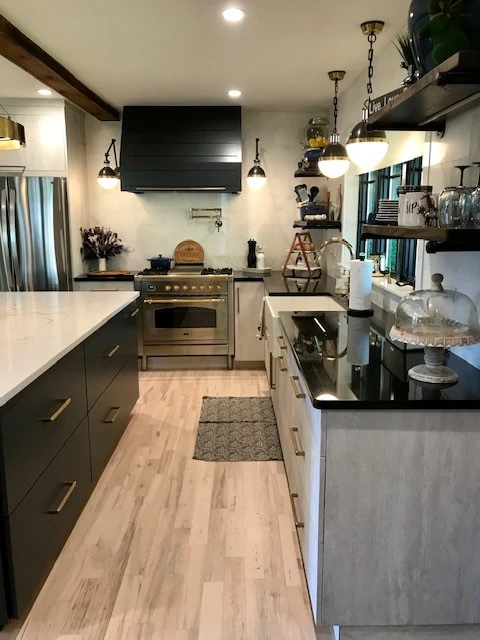 Kitchen Design By Stephanie Favale Designs
Create Contrast
A big addition to this design is the countertops. Using contrasting countertops for your perimeter cabinets and island enhances the modern feel of the space. You can also do this by adding stainless steel appliances, like an oven range from Ilve, to balance out the rustic and modern aesthetics.
Finish Off with a Touch of Rustic Charm
An iconic piece of any farmhouse kitchen design is the apron sink. Also called a farmhouse sink, this classic element plays a key role in making a kitchen design rustic. Additionally, opt in for extra storage space. This can be done by adding open shelving in a wood grain finish and displaying bold colored pots and pans on top. You can also add pendant lighting or sconces to bring more of a rustic feel. Finish off the kitchen with brass hardware – like this one from Top Knobs.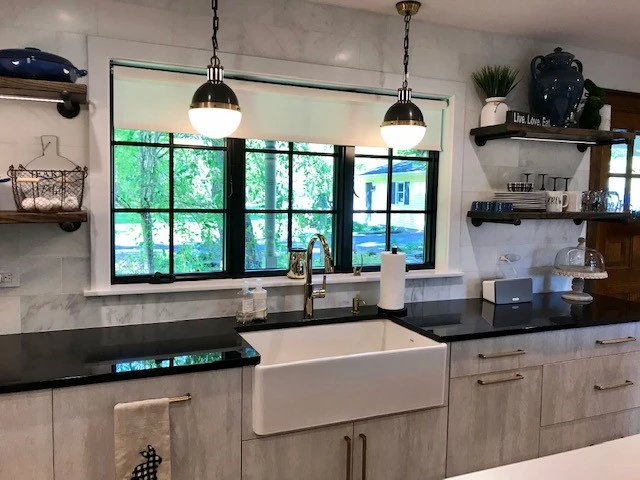 Kitchen Design By Stephanie Favale Designs
Get the Look
Overall, farmhouse kitchen designs are a growing trend in the USA. To get yours today, fill out our online contact form for help or more information! Follow @ProdigyCabinetry for more design inspiration.