Get ready to give your kitchen an upgrade with the latest modern kitchen cabinetry trends! From dark colors and wood grains to modern design ideas, read on for an in-depth look at the hottest cabinet elements that offer both style and storage.
Dark Finishes
If you're looking to give your kitchen an edgy, contemporary feel, then dark finishes are the way to go! Bold, matte black and navy cabinets exude a sophistication that's sure to make a statement, while also providing a sleek, timeless touch of elegance. Dark finishes are perfect for giving your kitchen an air of luxury and creating a dramatic focal point for your space.
Wood Grain
If you're looking to add a rustic touch to your kitchen cabinets, wood grain finishes are a perfect choice! Combining the texture of wood with the durability of laminate and melamine, this style gives your cabinets an authentic and natural look. Wood grain finishes provide a classic charm that will stand the test of time. Our line of Egger doors is a great example of a maintenance-free alternative to natural stained wood!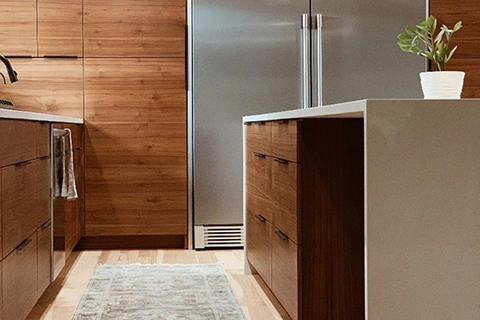 Pops of Color
Pops of color are becoming increasingly popular for modern kitchen designs. By adding a touch of color, you can create a unique and eye-catching look that will stand out from the rest. You can incorporate bright colors like our Marina finish. This color is found in many luxury designs as it resembles a Tiffany & Co. jewelry box. Adding some color to your kitchen cabinets will instantly create a modern look.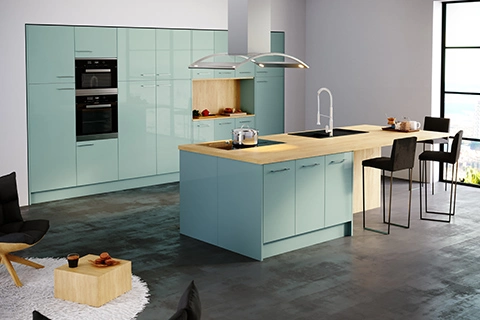 Two-Toned Designs
Two-toned cabinetry is a great way to add character to your kitchen. By utilizing two colors, you can create modern yet inviting looks that instantly capture the eye. For bold kitchens, consider pairing something like our Verde Salvia (in matte or high gloss) with wood tones like our Alvic Syncron Nocce 3. Or if subtlety is more your style, then combine white and gray cabinets with an accent shade such as navy blue or dark gray. Whichever combination you choose, two-toned cabinetry will give your kitchen a timeless look that will stand out from the rest!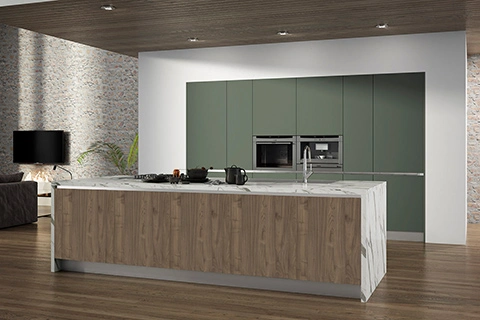 High Gloss
For the fashion-forward kitchen, high gloss cabinets are the perfect addition. Made from materials like Alvic Luxe acrylic surfaces, high gloss cabinets add depth and dimension to any space. These sleek and shiny options boast reflective qualities that bounce light around, creating an airy atmosphere that's ideal for open-concept modern kitchens. Plus, with light bouncing in all directions you can rest assured your kitchen will never look dull!
View Our Finishes for Your Modern Kitchen Cabinetry
With over 100 door styles/finishes to choose from, we're certain you will find the perfect tones and styles that fit these Modern Kitchen Cabinetry Trends. Our finishes can be viewed by visiting our products page. Follow us on Instagram, Pinterest, YouTube, and Facebook to see how our amazing designers incorporate our cabinetry and finishes into their work!