Master Bathroom Design Morristown, NJ
A bathroom is a place of refuge and relaxation after a long tiring day. Therefore, it deserves to be designed with utmost care and attention to detail. From color schemes, and fittings to vanity designs, every aspect of the bathroom design should be carefully considered to create a luxurious and stylish look. If you're in search of a bathroom design that embodies luxury and sophistication, then you might want to consider a custom double-shaker vanity with an Alvic Syncron finish.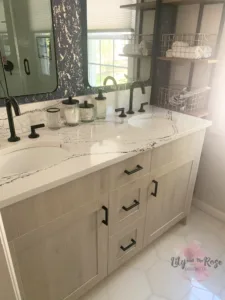 Photography by Stephanie Barbara
A Custom Vanity
A custom double-shaker vanity with Alvic Syncron collection is a perfect option if you're looking for a beautiful, clean, and modern design. This master bathroom Morristown, NJ by Lily and the Rose Design features a vanity that offers ample storage space for all bathroom essentials.
The Alvic Syncron collection is a high-quality and durable melamine that is ideal for vanity and cabinet design. Crafted to mimic the natural beauty of pine wood, the Ida 01 finish boasts a stunning rustic appearance that exudes personality and charm. Its subtle and delicate shade perfectly highlights the fine grain and distinctive knots, creating an elegant and timeless look that will elevate any space.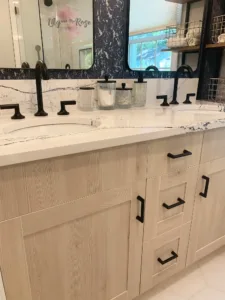 Photography by Stephanie Barbara
Matte Black Fixtures
The choice of fixtures in a bathroom design can enhance the overall look and feel of the space. Matte black plumbing fixtures are a perfect option for a luxurious bathroom. They create a contemporary look and feel that is sophisticated and elegant. A high-quality rain head is also a great choice for a spa-like experience in the shower. When considering a faucet for your bathroom vanity, the Brizo Jason Wu Collection faucet is an excellent choice. It is a perfect blend of functionality and style. It comes in different finishes and styles to suit your design preferences. For this particular kitchen, matte black was the perfect choice – it also pairs well with the Emory & Bond sink. To enhance the matte black look, the bathroom also has an industrial globe pendant from Shades of Light.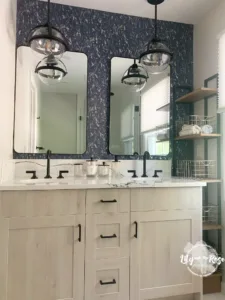 Photography by Stephanie Barbara
Some Luxurious Wallpaper
To complete the luxurious look of the bathroom, the designer opted for wallpaper. This adds texture, color, and pattern that is unique and eye-catching to the space. The wallpaper also enhances the visual appeal of the vanity by complementing the color and style of the vanity. It also complements the Cambria Portrush quartz countertops.
Ready to Renovate Your Master Bathroom?
Achieving a luxurious bathroom with a custom double-shaker vanity requires a careful selection of materials, finishes, and fixtures. It is essential to consider the functional and aesthetic aspects of each element to create a harmonious and cohesive design. The addition of designer wallpaper, Brizo faucet, matte black plumbing fixtures, and rain head can elevate the visual appeal of the bathroom. The homeowner's bathroom has been transformed into a spa-like retreat that they'll never want to leave.
See other bathroom designs using Prodigy Cabinetry like this Master Bathroom Morristown, NJ by viewing our gallery and following us on Instagram.