Multifamily Development
The pandemic drove people out of cities and into the suburbs. Housing prices increased with the demand and rental prices increased in tandem. Additionally, we saw increases in rental prices which boosted multifamily development into areas outside of cities, and the current supply of multi-unit buildings is not meeting demand. Today this is a lucrative area for developers and property groups.
Profit from a Revamp
In 2018 Excelsa Properties purchased the 582-unit Archer Road portfolio located in Gainesville Florida.  They paid $42 million and went on a four-year project to upgrade 25% of the 5 multi-unit buildings. The cost of the renovations was $4 million.  Then, in August of 2022, LYFE Properties Group and Skywood Properties purchased a revamped Archer Road for $89.5 million.  This resulted in the red-hot real estate market in Florida and the value added to remodeling a multifamily development.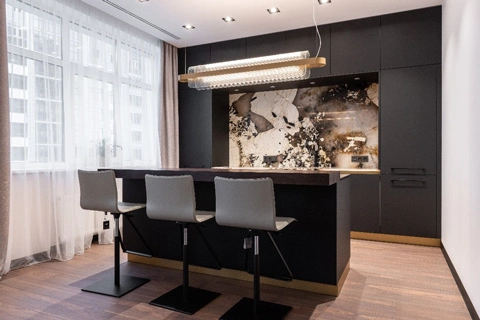 Builder Cabinetry Solutions
Firstly, cabinetry that appeals to tenants is modern, easy to clean, built with plywood versus particleboard, and offers ergonomic storage. Warm and natural or clean and minimalist are the two most common kitchen design themes in apartments. Additionally, undercabinet lighting sets the stage and adds a dramatic look with minimal cost.  For upgrading units, our plywood box Classic Series Cabinetry has coveted leg levelers for uneven floors and creating a level countertop surface.
Custom Interior Solutions
Interiors of cabinets can be upgraded to include space-saving storage solutions, and options to hide clutter, store trash, and organize cleaning supplies.
Kitchen Design for Small Spaces
When remodeling a multi-unit apartment or condominium, the kitchen is a key component of the perceived value of the space. Balancing the design and the cost is the art of the process.  At Prodigy, we find the most common layout for small kitchens is the simple Pullman style.  This style of kitchen is one simple wall of cabinetry, named after the 1800's era design found on Pullman Trains. For a design needing additional countertop area, a galley-style kitchen with cabinets opposing each other works well. Give us a call at (864) 558-9538 to become a dealer or find a multifamily development kitchen designer near you.