Modern Bar Cabinets
What makes the perfect Modern Bar Cabinets design? This style combines the rustic, vintage feel of the traditional style with contemporary pieces. Designers execute this by using wood as the main materials and metal materials as accents. Despite having this aesthetic, the space must also be functional, simple, and practical. This farmhouse bar by Total Kitchen Outfitters is exemplary of this simple yet luxurious design. Let's take a look at other features that truly make a Modern Bar Cabinets design.
Wood Textured Cabinet Doors
Farmhouse homes take advantage of the use of wood and texture and stick to neutral color palettes. For instance, when it comes to cabinetry for a kitchen, bathroom, or even a bar, wood-textured cabinetry is the perfect choice because it provides that rugged appearance of the traditional style. In this Farmhouse Bar Design for example, the cabinets use the Alvic Syncron Roble Muratti 01 finish.
Additionally, this cabinet door style is a textured panel with an attractive range where both the design and finish work to complement each other to create natural-looking surfaces. The horizontal wood grains create a clean, sleek look to the rustic, yet modern farmhouse bar. This also pairs perfectly with a marbled white waterfall countertop and creates a stunning contrast to the space.
Accents and Accessories
To complement the vintage aesthetic of the wooden cabinets and textures, use metal finishes to bring modernity to the space. The use of metal materials also pairs well with stainless steel appliances. In this bar, metal materials are being used in the handles of the cabinetry and the sink and faucet.
A major décor piece in the farmhouse style is the use of open shelving. Open shelving in kitchens and bar areas is often used to hold pieces like dinner plates, mugs, and more. In this case, the open shelving is perfect for holding every kind of alcohol that does not need to be stored in the cooler, and every kind of glass. This then frees up space on the countertop for other accessories and appliances.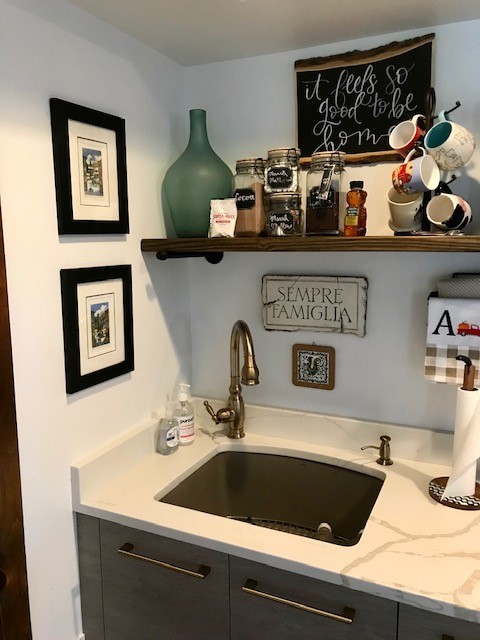 Get the Look
Fill out our online contact form for help or more information! Follow @ProdigyCabinetry for more design inspiration. Featured design by Total Kitchen Outfitters @totalkitchenoutfitters @stephaniefavaledesigns