Kitchen Cabinet Trends 2022
With the New Year here, we're sharing a peek at the upcoming kitchen cabinet trends for 2022. Keep reading to find out what trends you can expect to continue, what trends will likely emerge, and what trends might stay behind in 2021.
Color Me Bold
The biggest kitchen cabinet color trend of 2021 was, unsurprisingly, white. I say "unsurprisingly" because the all-white kitchen dominates kitchen design ever year. But the feeling of change is in the air.
2022 kitchen cabinet color trends are going to be bold, dramatic colors. Keep an eye out for deep jewel tones like emerald and navy, but also bright and cheerful tones like robin's egg blue or citrus yellow. It looks like green (especially sage) will vie to become the most popular kitchen cabinet color.
We offer door styles and finishes perfect for these color trends such as Azul Indigo, which is a deeper blue, perfect for that jewel tone navy. Our finishes also include the Prism series style in Mysterious, also perfect for that deep jewel tone navy.
Stay tuned for new finish additions to our product offerings that follow suit with these color trends (hint: think green!)
Bring Back Matte
First, say goodbye to high gloss cabinets, kitchens, and surfaces. 2022 is all about bringing back those matte textures. No one wants to see fingerprints or grease clear as day on those pristine gloss cabinets. Our matte cabinetry is anti-fingerprint, easy to clean, and available in a variety of colors and wood textures.
Matching is Boring
Perhaps the biggest kitchen design trend to emerge in 2022 will be the mixing and matching of a wide range of materials. Previously, mixing and matching in kitchen design were mostly different upper and lower cabinet colors. But now, the sky's the limit. Think mix and match cabinet door styles, painted and wood tones, stone, and metal — the contrasts are endless.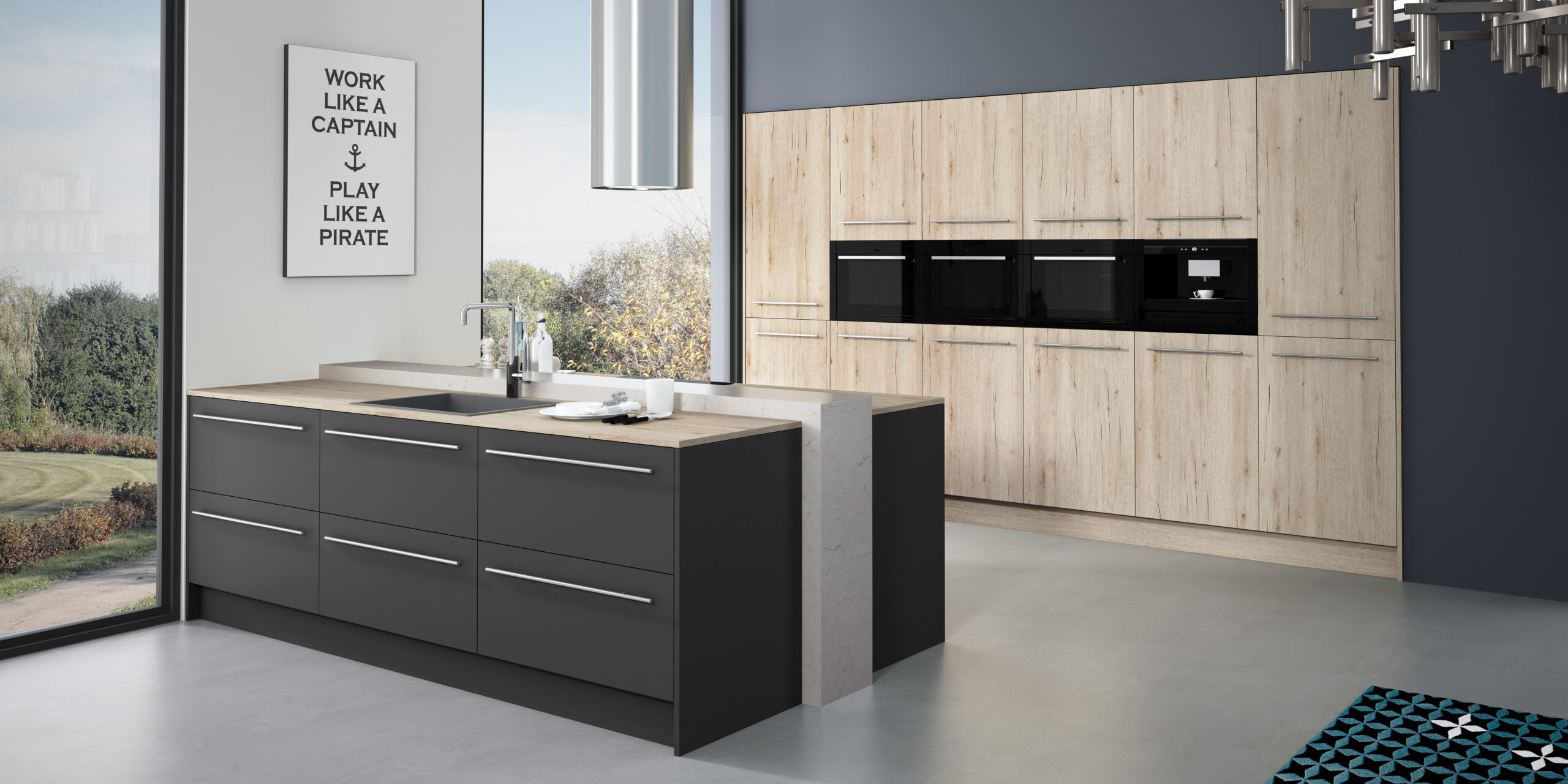 Don't Want to Wait?
Our dealers are ready whenever you are to incorporate these trends in your kitchen design. Fill out our online contact form for help or more information! Follow @ProdigyCabinetry for design inspiration.
Don't miss the recent Redfin article we were featured in: "Remodeling a Kitchen: Increase Home Value and Help Sell Your Home for More"
The kitchen is the heart of the home, a place for entertaining, making memories, and cooking meals for you and your loved ones. As one of the most used rooms in a home, the kitchen plays a crucial role in day-to-day life – from the first cup of coffee in the morning to creating a dish that brings everyone together at the end of the day. It's no wonder why a modernized kitchen is a must-have for millions of homeowners all across the housing market. No matter where you live, remodeling a kitchen will not only improve lifestyle and convenience for current homeowners, it will also add value and appeal to homebuyers if you're looking to sell in the near future.
Redfin asked us along with other kitchen experts to share our best tips and tricks for a kitchen remodel. From better design and appearance, to additional space, improved technology, and increased functionality – check out what they had to say!
Remodeling a Kitchen: Increase Home Value and Help Sell Your Home for More