The kitchen is where we spend most of our time cooking, eating, entertaining, and spending time with family and friends. As such, it's essential to make your kitchen space both functional and beautiful. Kitchens that are well-designed and stylish make cooking enjoyable, and they also add value to your home. A modern kitchen is a growing trend that can take your home to the next level. Let's explore a modern kitchen in Greenville, SC by Modern Image Kitchen and Bath.
Two-Toned Cabinetry
A two-toned kitchen is a design that uses two different colors or finishes for cabinets or walls. Two-toned kitchens add depth and interest to a space, giving it a custom, high-end look. Designer Rebecca Snyder created a stunning modern kitchen using Alvic Syncron Olmo 03 and Roble Muratti 04 finishes on slab cabinets. Alvic Syncron Olmo 03 is a warm, inviting, and natural-looking dark wood textured finish that provides a seamless and continuous wooden texture. The Roble Muratti 04 finish, on the other hand, has a natural grain and linear texture that exudes elegance and style. This provides an excellent contrast to the Syncron Olmo 03. Together, they combine to create a perfect balance between natural and modern.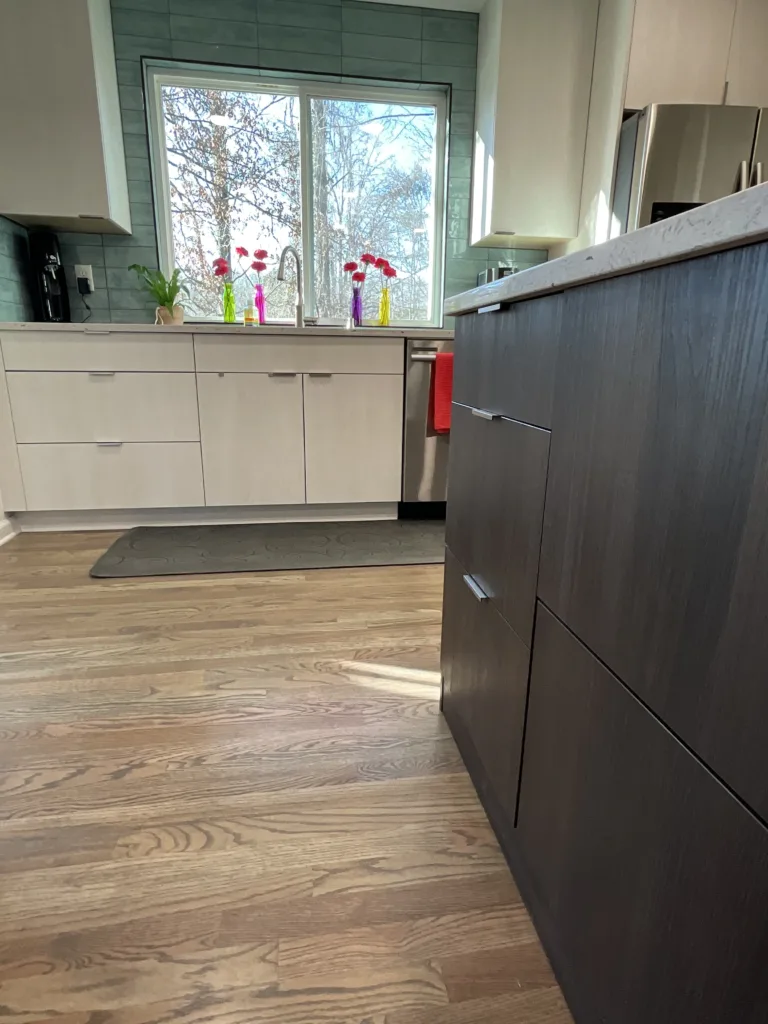 Contrasting Elements
A perfect complement to the two-tone cabinets, the white countertop from Upstate Granite Solutions provides an elegant look in this kitchen. People tend to associate the color white with honesty, purity, and cleanliness, which is why it's such a popular choice for kitchen and bathroom surfaces. The white color contrasts beautifully with the darker Alvic Syncron Olmo 03 cabinet finish, creating a perfect balance of light and dark on the island.
The blue tile backsplash from Floor and Décor provides a lovely pop of color in this stunning kitchen. The blue color complements the white granite countertop and adds contrast to the darker Alvic Syncron Olmo 03 and lighter Roble Muratti 04 finishes. The tile backsplash provides a refreshing and vibrant look to this kitchen space.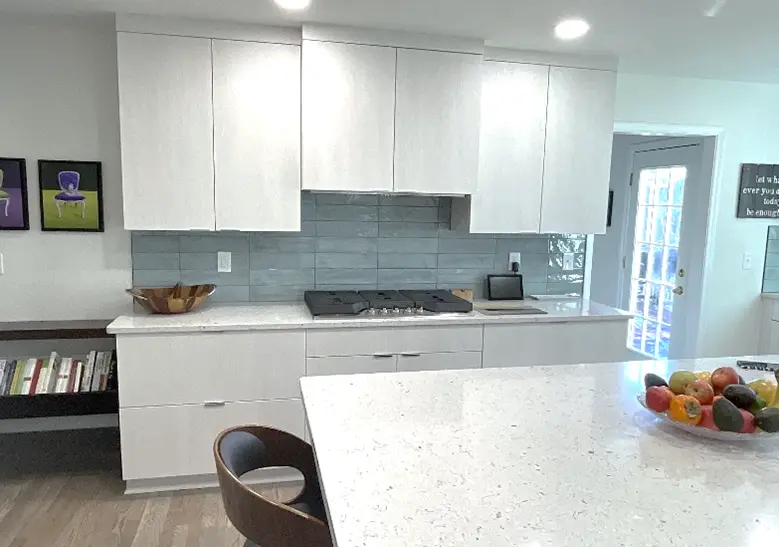 Finishing Touches
The Frigidaire appliances in this kitchen are the finishing touch that ties the design together. The gas cooktop features easy-to-use design elements like backlit LED knobs and dishwasher-safe burner caps that make cooking and cleaning easy. There is also a built-in microwave with Sensor Cook, Sensor Reheat and Quick Start options. The wall oven has an advanced convection system, which includes cooking modes like No Preheat, Air Fry, Slow Cook, Steam Bake, Steam Roast, Air Sous Vide, Convection Roast, and Convection Bake. Lastly, the refrigerator utilizes a freshness system that keeps food fresh, helps reduce food waste and has air and water filtration.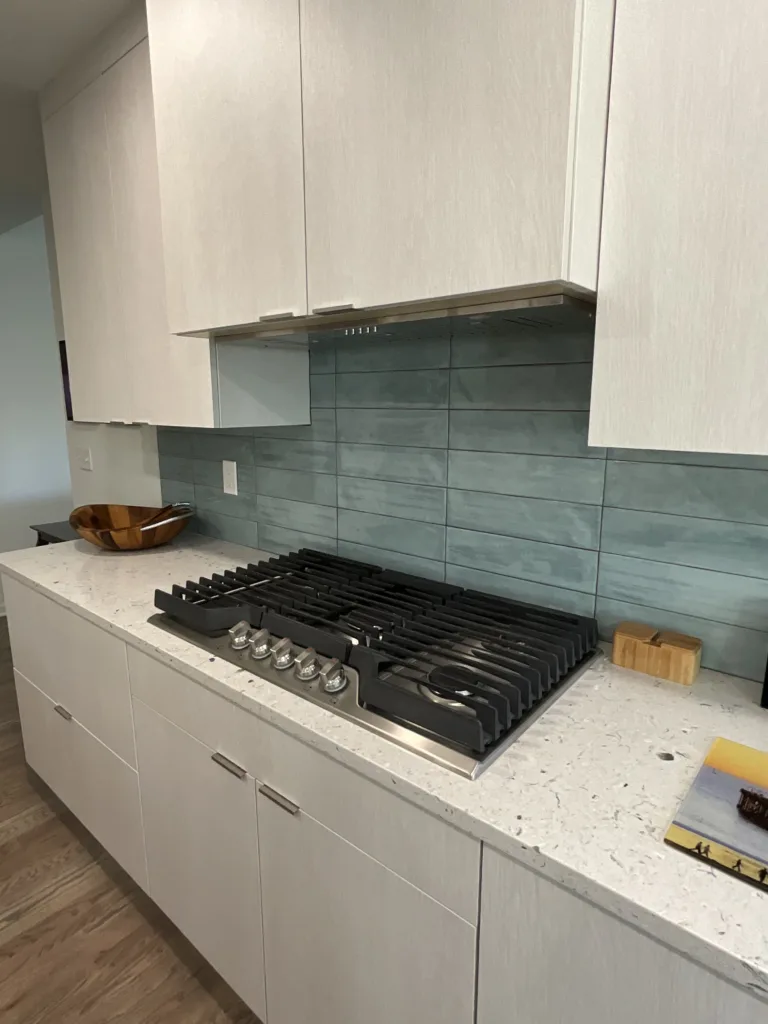 Get Yourself a Modern Kitchen
A modern kitchen is a great way to add both value and enjoyment to your home. With the right cabinetry, you can transform your kitchen into a beautiful and functional space that you and your family will absolutely love. Prodigy Cabinetry provides an extensive collection of modern kitchen cabinets designed with the style, quality, and practicality you need. Your dream kitchen awaits, so don't wait any longer – create your perfect kitchen with Prodigy Cabinetry!